TF2Center Freemium
The New Year's Freemium Update™
Overview
This update is a major addition to how TF2C offers perks. In our survey, many people responded saying that they cannot donate, but would like another way to contribute to TF2Center. This is for you!
Introducing, the Freemium Update™! This is an update for those who cannot donate, but would still like to contribute. You will receive special perks, all for doing one simple thing - adding #TF2Center to your Steam name! After a 72 hour wait, all you have to do is continue to have the tag in your name, and you will continue to receive some awesome perks! However, should the tag ever not be in your name, you will lose access to the perks.
TL;DR
We are now offering perks for those who change their Steam name to include #TF2Center. This is not the same as donating - donors already receive all these perks (and more.)
Allow adblock
Extended ready up timer (6 mins)
Create Balanced Lobbies
A unique icon in main chat
That warm, fuzzy feeling from contributing.
Terms and conditions
#TF2Center

must remain in your Steam name the entire time to receive these perks.
After adding the tag to your name, there is a 72 hour (three day) wait time until you receive the perks.
We periodically check your name to make sure the tag is in it. If it is not, you will lose the perks, and the 72 hour wait time resets.
FAQ
How do I check how long it will be until I receive my perks?
Go to your TF2Center profile, and look at the Freemium section: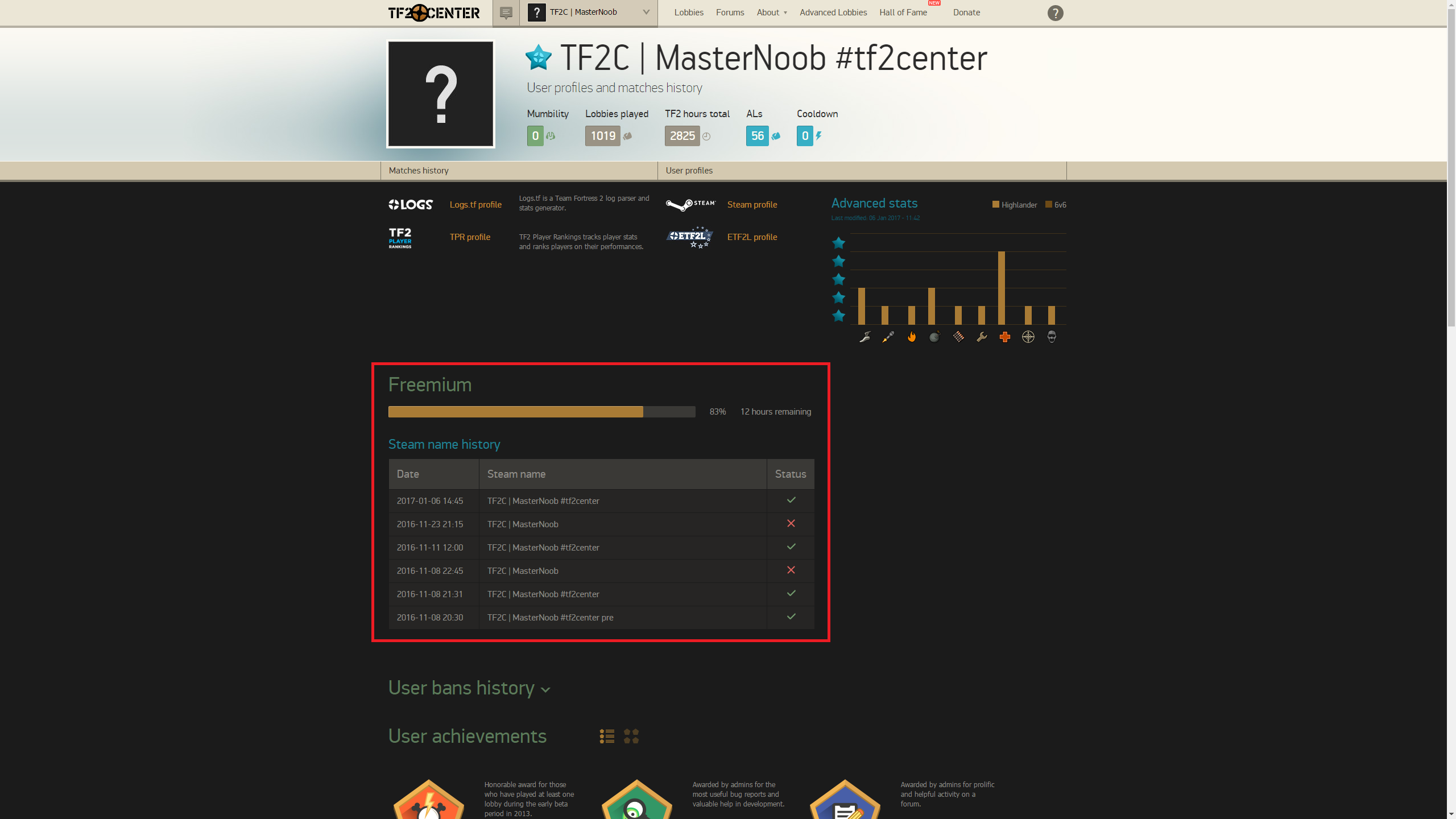 I changed my name, but the site hasn't noticed yet!
Please wait 15 minutes for the site to verify your name change. If the site still hasn't updated yet, please re-login to force a name check.
I lost my perks, but I didn't change my name!
Yes, you did. TF2Center keeps track of all your name changes, and you can see which one didn't have the tag. Go to your TF2Center profile, and look at the Freemium section: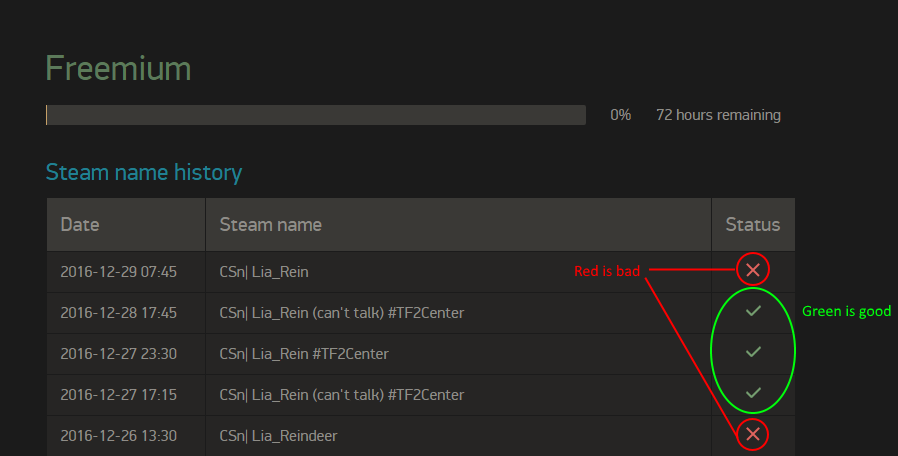 How will I know when my Freemium is activated?
On your TF2Center profile, the Freemium section will look like this:

If I'm a Donator, do I also have to put the tag in my name to receive these perks?
Nope! All donors already have all perks by default.
Where in my name do I have to put the tag?
Anywhere you want! As long as the characters "#TF2Center" are in the name, and in a row, it doesn't matter whether the tag is in the beginning, middle, or end!
Examples:

#TF2Center Nado
Nado #TF2Center